Using only the most advanced and up-to-date methods available today, permanent makeup is as safe and affordable as ever. We offer many popular permanent cosmetic enhancements including eyebrows, eyeliner, eyelash extensions and eyelash perm. Thoroughly trained and licensed, Vicky has perfected these enhancements over the years. Who better to trust with permanent makeup than a well renowned makeup artist with an eye for beauty? She is able to ensure the most flattering shapes and shades for your face. No need to worry about unsightly fading gray blue tattoos! Our cutting edge techniques ensure lasting natural color for 3-5 years.
EYEBROWS
Eyebrows play an important part in framing your face and can dramatically impact your appearance. Those looking for the perfect arch or more fullness in their brows can now enjoy the benefits or permanent makeup. Once Vicky determines the perfect brow shape for you there's no need to worry about redoing it every morning! Don't suffer the embarrassment of disappearing brows in the morning, while swimming, or sweating any longer!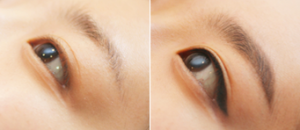 EYELINER
Benefit from a naturally lash and dark lashline to define and shape your eyes. Permanent eyeliner creates the illusion of thousands of tiny eyelashes through the implantation of subtle pigment in your lashline. An additional shadowing of color is applied to create the desired look-soft, natural liner, or a border definite liner. Permanent makeup is also great for sensitive eyes, frequently recommended by opthalmologists for those unable to wear conventional makeup or contact lens wearers.